Nastavení před spuštěním kontroly webu
Okénko na obrázku vyvoláme volbou File -> Check URL. Do prvního pole zadáme adresu webu, který chceme nechat zkontrolovat. Zaškrtnutím volby "Check external links" ověřujeme i odchozí odkazy z našich stránek. Další možností je vložit HTML dokument z disku. Některé stránky webu je možné z kontroly vyřadit (Do not check any URLs beginning with this).
Před spuštěním je dobré se podívat na nastavení programu (volba Options -> Preferences).
Posuvník nahoře s názvem Parallel Threads udává počet souběžně stahovaných vláken. Defaultní je 30, zkuste snížit na 5, abyste docílili menšího zatížení paměti. Pokud vám Xenu při spuštění kontroly zahlásí "cancelled/timeout", počet zvyšte, např. na 75.
Tlačítko "Ask for password or certifikate when needed" je standardně zaškrtné. Doporučuji nechat pro upozornění, že stránka vyžaduje zadání hesla nebo certifikát.
Položka "Treat redirections as report" po zaškrtnutí upozorní na přesměrované stránky. Volbu "Appy to all jobs" nechte potvrzenou - nastavení zůstane uložené i do dalších kontrol. Zbývající část okna Options slouží pro obsah reportu a můžeme jej nechat v defaultním stavu.
Spuštění kontroly webu
Po spuštění kontroly odkazů počkáme, dokud se nám nezobrazí hláška "Link sleuth finished. Do you want a report?". Pokud odpovíme kladně, zobrazí se nám report přímo ve webovém rozhraní.
Co report obsahuje? To, co jsme zaškrtli v nastavení reportu:
všechny vadné odkazy
bezchybné odkazy
přesměrované URL
či statitistiku pro manažery.
Nyní se z webového rozhraní přesuneme zpět do Xenu. Při blížším zkoumání zjistíme, jaká data nám nástroj poskytl.
Máme zde sloupce, podle kterých můžeme vyobrazená data třídit.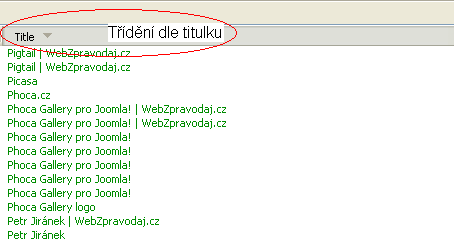 Nejdůležitější sloupce
Adress: zde vidíme konkrétní URL adresy - zeleně jsou označeny funkční a červeně vadné. Po kliknutí na název sloupce uspořádáme zobrazené linky podle abecedy.

Status: říká nám, v jakém stavu je naše URL. Po seřazení získáme rychlý přehled funkčních a těch ostatních (výpisu pouze vadných odkazů docílíme pomocí volby View a zaškrtnutím "Show broken links only).

Při prohlížení výsledků se vám může hodit tabulka stavových kódů.
Nejčastější chybou ve sloupci Status je asi Not found - vaše URL nebyla nalezena. Jedná se o chybu 404. Pro kontrolu můžete na odkaz kliknout pravým tlačítkem, zvolit "Open in browser" a přesvědčit se. URL pak opravte, abyste zbytečně nenaštvali své návštěvníky.
Další sloupce
Type: určuje typ souboru (HTML stránka, obrázek, javascript apod.). U souboru typu image vidíme ve sloupečku Title alternativní popisek obrázku - alt. Pokud je prázdný, nezapomeňte jej doplnit.

Size: určuje velikost souboru. Po seřazení uvidíte, který zabírá nejvíce místa. Hlídejte hlavně u obrázků, aby se na stránce nenačítaly příliš dlouho.

Title: vypisuje titulek stránky. Získáváme přehled veškerých titulků na webu. Po seřazení uvidíme, které jsou duplicitní.Pro každou stránku typu text/html bychom měli mít napsaný unikátní Title. Všímejte si i příliš dlouhých titulků. Pamatujte, že počet znaků v tomto metatagu by neměl překročit 65.

Charset: jedná se o kódování stránky (nejčastěji UTF-8).

Description: Zobrazí nám obsah meta description (může chybět u starší verze Xenu). Počet znaků u metatagu description by neměl být větší než 155.

Dále zde máme ještě sloupec Level (hloubka stránek - kde ve struktuře webu se stránka nachází), Out links (počet odchozích odkazů) a In links (počet vnitřních odkazů).
Kliknutím na jakýkoli řádek pravým tlačítkem získáme možnosti:
zkopírovat si URL adresu - Copy URL

otevřít stránku v okně defaultního prohlížeče - Open in Browser

otevřít stránku ve vyrovnávací paměti Google (tak, jak ji má Google naposledy zaznamenou, vč. zobrazení datumu) - Open in Google cache

otevřít stránku ve Wayback Machine, kde se můžeme podívat na historické otisky webu - Open in Wayback Machine

otevřít Alexa statistiky naší stránky - Open in Alexa

zkontrolovat si validitu zdrojového kódu - Validate URL

seznam odkazů na zvolené stránce + seznam stránek, která na ni odkazují - URL properties.
Závěrečné zhodnocení
XENU je velice užitečný nástroj, který usnadňuje kontrolu nedostatků na webu. Proto doporučuji: vždy si nový web tímto programem zkontrolujte.
Hlavní výhoda
Co vylepšovat?
Např.:
zobrazení počtu znaků metatagu Title a Description
rozlišování stránek s parametrem "nofollow", "noindex",
zobrazení stránek se zakázanou indexací v souboru "robots.txt".
Chcete nástroj, který všechny tyto funkce má? Zkuste Screaming Frog. Není však zcela zdarma. Přečtěte si o něm v článku Rychlý audit webu pomocí Sreaming Frog.
Informační zdroje
http://blog.h1.cz/aktualne/odhalte-technicke-nedostatky-webu-pomoci-xenu/ (26.1.2014)
http://moz.com/blog/xenu-link-sleuth-more-than-just-a-broken-links-finder (26.1.2014)
http://foliovision.com/seo-tools/xenu-link-sleuth (26.1.2014)
http://www.searchenginejournal.com/7-things-you-can-do-with-xenu-link-sleuth/7870/ (26.1.2014)