Stažení
Recuva je freeware, tedy ke stažení zdarma.
Instalace
Neangličtináři jistě ocení možnost češtiny.
Pokud nechcete program CCleaner, zaškrtněte ne.
Necháme vše zaškrtnuté, dáme další a počkáme na dokončení instalace.
Záchrana dat
Na konkrétním příkladu budu demonstrovat, jak Recuva funguje. Nešťastnou náhodou jsme si odstranili 3 obrázky pomocí shift + delete.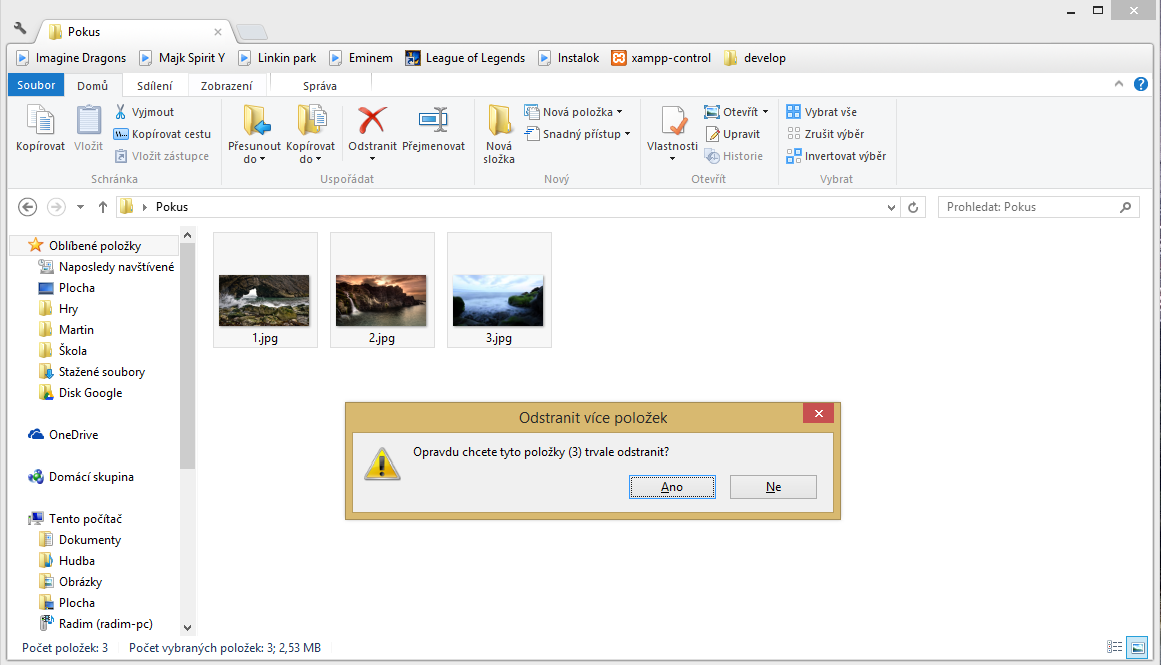 Zapneme Recuvu a vybereme typ souboru. My pro jistotu dáme obnovit všechny soubory.
Vybereme umístění, kde se soubory nacházely a dáme další.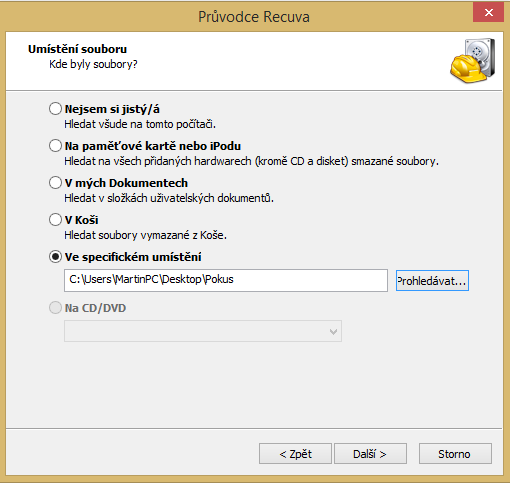 Hloubkové hledání v mém případě trvalo asi 10 minut, zatímco normální asi 20 vteřin. Proto hloubkové hledání doporučuji jen v případě, že normální selhalo, jelikož při větším počtu souborů je opravdu velmi dlouhé.
Všechny soubory byly nalezeny a zelený puntík znamená, že jsou nepoškozeny. Pokud by se objevil puntík červený, byla by data poškozena a prakticky k ničemu.
Klikneme na tlačítko Obnovit a vybereme složku, kam budeme data obnovovat. Důrazně doporučuji obnovovat na jiný harddisk, než na kterém byla smazaná data.
Já jsem žádný jiný disk, nebo jiné externí médium k dispozici neměl a to zanechalo své následky. První obrázek je poškozený a je tedy k ničemu. Ačkoliv se to zdá jako drobnost, při větším množství souborů by to mohlo mít nepříjemné následky.
Jak to vlastně funguje?
Data vymazaná z koše ve skutečnosti nadobro smazané nejsou. Windows je jen označí značkou, že tato data mohou být nahrazena jinými. Jakékoliv zapsání na harddisk mohou tyto označkované soubory přepsat a to buď částečně (poté budou poškozené), nebo úplně. Proto je důležité udělat obnovu co nejdříve s co nejmenším počtem operací. Doporučuji mít tedy Recuvu nainstalovanou už teď, protože náhoda je blbec a možná právě instalace této aplikace by vám mohla smazat vámi hledané soubory.