p01-contact
Tato převelice šikovná věc je ke stažení na oficiálním webu GetSimple v sekci Extend.
Nejen že umožňuje efektivně a rychle umísťovat na web formulář(e), ale dokonce obsahuje antispamovou ochranu captcha. I podporu blacklistů a whitelistů pro všechna pole považujeme za nespornou výhodu. Po drobném nastylování může formulář vypadat jako na obrázku níže. Jednotlivé položky lze pomocí HTML a CSS přeskupit, uspořádat do tabulky, dodat rámeček a podobně.
Instalace pluginu
Jeho "instalace" spočívá v rozbalení složky (tím dostane složku p01-contact a soubor p01-contact_gs.php) a nakopírování obou rozbalených souborů do složky /plugins přímo v adresáři GetSimple. Pak je třeba ještě přibalit češtinu a vhodně formulář nastavit, popř. i nastylovat ve svém .css souboru.
Čeština do p01-contact
Určitě budete rádi, když na svém českém webu budete mít česky i formulář. Plugin p01-contact češtinu v základním balíku ale neobsahuje, proto je třeba si ji vyrobit nebo stáhnout zvlášť.
Pokud ji chcete vytvořit, stačí přepsat jiný jazykový soubor (třeba en.php) v editoru (PSPad a další), ve kterém nastavíte formát na UTF-8. Ten pak musíte uložit s jiným názvem, např. cs.php, abyste nepřišli o původní anglickou lokalizaci. Do souboru langs.php pak mezi ostatní jazyky přidáte řádek 'cs' => 'Česky' a vaše čeština bude fungovat.
Pokud ji nechcete tvořit, což je opravdu zbytečné, když už to někdo před vámi udělal, čeština do p01-contact z naší dílny vám práci ulehčí. Obsah archivu po rozbalení pouze zkopírujte do adresáře /plugins/p01-contact//lang a původní soubor lang.php nahraďte.
Tím máte formulář česky.
Používání formulářů
Nejprve se podívejme do nastavení formuláře. Dostaneme se do něj tak, že se přihlásíme do uživatelského rozhraní GetSimple dané stránky, kam jsme GetSimple nainstalovali, a přejdeme do záložky Pluginy. Vpravo v postranním menu pak najdeme záložku p01-contact, na kterou klikneme.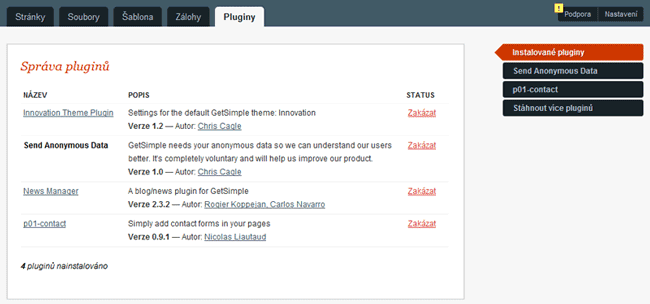 Zobrazí se nám možnosti nastavení. Nejdůležitější nastavení jsou v horní části. Pokud jste postupovali podle návodu, nejprve klikněte do rozbalovací nabídky jazyků - Language. Standardně je nastavená angličtina - English, my však chceme češtinu, proto z nabídky vybereme Česky. Aby se změny projevily, musíme sjet myší až dolů na konec všech nastavení a kliknout na tlačítko Save Settings (Uložit nastavení). Tím se ocitneme ve fázi na obrázku níže. Zkontrolujte, zda máte formulář povolený. Pokud je zaškrtávací políčko zaškrtlé, tak je vše v pořádku. Pak nezbývá než nastavit e-mail, na který vám budou chodit vzkazy z formuláře. Můžete nastavit i minimální délku znaků pro zprávy, abyste zamezili zbytečným e-mailům, kdyby vám někdo nechtěně odeslal třeba jeden znak (i když je to velmi nepravděpodobné díky captcha kódu).
Pokud si chcete nastavit kolonky, také můžete. Všechny příkazy jsou pro anglicky rozumící jasné, ale pro upřesnění také přeložíme.
name! (jméno)
email! (e-mail)
subject! (předmět zprávy)
message! (okno pro text zprávy)
captcha! (kontrolní kód)
askcopy! (vyžádat kopii na e-mail)
address! (kolonka pro adresu)
phone! (telefon)
website! (webové stránky)
Připsáním (nebo smazáním) těchto klíčových slov s vykřičníkem do kolonky "defaultní parametry" přidáte (nebo odeberete) políčka, která si přejete.
Po všech těchto úpravách dole klikněte na Save Settings (uložit nastavení). Tím je nastavení dokončeno.
Abyste nyní umístili formulář kamkoliv do stránky, napiště nebo zkopírujte na vámi vybrané místo na stránce jen tento text: (% contact %). Vše už bude fungovat tak, jak má.
News Manager
Druhý velmi užitečný plugin. GetSimple sám o sobě umožňuje vytvářet nové stránky a odkazovat na ně, popř. je přímo přidávat do menu. Tento plugin ale funguje tak, že dokonce obstará veškeré odkazování na nás a sám prezentuje naše články s krátkým výňatkem na jednu jedinou stránku na našem webu, kterou si vybereme. Navíc je u všech článků datum a čas publikování. Pokud nastavíme datum publikování na dobu, která ještě nenastala, článek se publikuje sám, když jeho čas nastane.
Umožňuje nastavit, ve které rubrice budou články publikovány i délku výňatků článků. Články lze zobrazovat na vybrané stránce i celé, ale pokud jsou články jen malinko delší, veškerá přehlednost by byla tu tam.
Instalace
Stejně jako u p01-contact pluginy, i zde pouze stáhneme archiv s programem a rozbalíme obsah staženého zipu do složky /plugin v adresáři GetSimple. Tím nám tam přibyde složka news_manager a soubor news_manager.php.
Čeština do News Manageru
News Manager má velmi podobnou strukturu jako p01-contact a tak i češtinu můžeme aplikovat dvěma způsoby. V každém případě musíme zavítat do složky /plugins/news_manager/lang.
Buď se vydáme složitou cestou a přepíšeme soubor en_US.php do češtiny a uložíme jej jako cs_CZ.php. U upraveného souboru však musíme kvůli problémům s českými znanky ještě na posledním řádku přepsat poslední textový řádek s DATE_FORMAT na následující:
"DATE_FORMAT" => "%d.%m.%Y - %H:%M"
Nebo se vydáme jednodušší cestou. Naše vlastní News Manager čeština je volně ke stažení. Opět ji zkopírujte do již zmiňované složky /plugins/news_manager/lang.
Tím je čeština připravena.
Používání správce novinek
Velice jednoduché. Nejprve ještě nastavíme češtinu. K nastavení opět přistupujeme přes administraci stránek GetSimple, ovšem tentokrát ne v záložce Pluginy, ale v záložce Stránky. Tam nám vpravo v postranním menu přibyla položka News Manager. Klepneme na ni a dostaneme se do správy našich článků jako na obrázku níže.

Před samotným psaním tedy ještě klikneme na Nastavení uprostřed obrazovky vedle tlačítka "vytvořit nový příspěvek". Zobrazí se nám jednoduché rozhraní, kde nastavíme, co potřebujeme.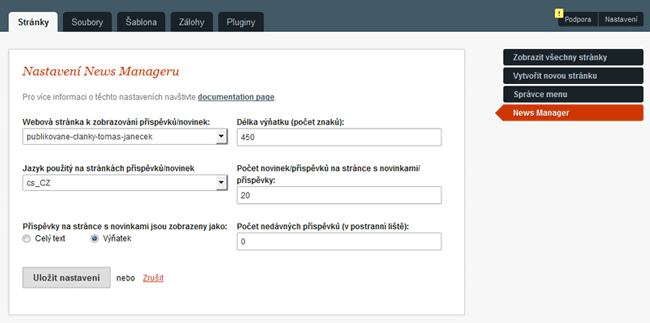 I když jsme češtinu ještě v tomto nastavení nenastavili, samotné nastavení bude v češtině jako na našem obrázku. Jazyk se totiž řídí globálním nastavením.
Webová stránka k zobrazování příspěvků/novinek je téměř nejdůležitější položkou nastavení. Jedná se o stránku (ideálně i rubriku menu), na které se zobrazí naše články. Jazyk použitý na stránkách příspěvků/novinek je také důležitý údaj, aby se datum a čas publikování zobrazovalo ve správném formátu. Nastavíme cs_CZ jako na obrázku. Příspěvky na stránce jsou zobrazeny jako: ideálně výňatek, pokud články nebudou na 2-4 řádky. Délka výňatku je na vás, 450 znaků je přesně tolik, kolik je zobrazeno o tři obrázky výše. Nastavte dle sebe, držte se ale v řádu desítek až stovek. Počet novinek/příspěvků na stránce s novinkami/příspěvky nastavte také podle sebe, 20 se nám zdá být přiměřené. A na konec počet nedávných příspěvků v postranní liště - nastavte dle sebe. My postranní lištu (sidebar) nemáme, proto jsme nastavili 0.
Uložit nastavení je poslední krok, na který nesmíte zapomenout.
Můžeme začít tvořit - po uložení nastavení se ocitneme zpět v News Manageru. Kdykoliv se tam budeme chtít vrátit a napsat článek, přejdeme v GetSimple do záložky Stránky a vpravo v menu klikneme na News Manager. Chceme-li vytvořit nový článek, klikneme na "Vytvořit nový příspěvek". Objeví se nám už známý (CK)editor. Nahoře ještě můžeme rozkliknout Nastavení příspěvku, kde pak máme další možnosti. Tagy bychom měli vyplnit, zobrazí se nám pak pod každým příspěvkem na seznamu příspěvků a návštěvníci našeho webu pak mohou filtrovat příspěvky podle klíčových slov. Ostatní kolonky se vyplní samy, to ale neznamená, že bychom je neměli vyplňovat. Slug/URL bude adresa k tomuto článku. Co se týká data a času publikování, máme možnost nastavit i čas nebo datum (ve formátu rrrr-mm-dd), které teprve bude. Tím docílíme automatického publikování článku až v době, kdy námi zvolené datum a čas nastane.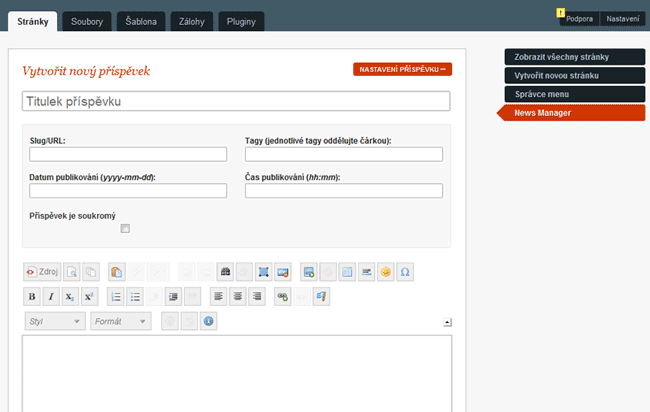 A to je k zatím vše. Minimálně tyto dva pluginy jsou téměř nezbytné a doufáme, že je rádi a díky našemu tutorialu i snadno využijete.
Na závěr bych chtěl zmínit ještě několik málo pluginů, kterým se budeme věnovat zase příště. Půjde o News Manager Title pro upravení titulku stránku pro každý článek zvlášť, News Manager RSS jako RSS čtečka pro články z News Manageru, News Manager Addons pro další vylepšení News Manageru, Create Post Shortcut pro rychlejší psaní článků, FancyBoxPlugin pro moderní jquery galerie typu lightbox, Czechoslovak Transliteration z mé vlastní tvorby pro překládání url adres s diakritikou bez chyb, a konečně I18N a I18N navigation pro víceúrovňová menu a multijazyčné weby na GetSimplu.