Co vše umí Akeeba
Akeba umožňuje:
snadný přístup k vytváření zálohy (je přístupná z administrace webu),
snadnou a automatická instalace (Akeeba se upraví sama dle nastavení vašeho webu),
automatické zálohování (vytváří automatickou zálohu, popřípadě Vás upozorní na potřebu zálohvat),
různé formáty záloh (ZIP, JPA a JPS archiv se zabezpečením AES-128),
obnovu z bodu obnovy (před každou instalací se vytváří bod obnovy, kterým lze vrátit původní nastavení),
vlastní obsah záloh (můžeme vybrat, co zazálohujeme) a
kopírovat do cloudového úložiště (například do SkyDrive).
Licence Akeeba
Akeeba je nabízena v několika licencích. Ve verzi Zdarma nemá žádnou podporu, ale pokud si připlatíte 7,79 Euro, pak máte podporu na 8 dní. Tato licence se jmenuje Minisupport. Profesionální licence označovaná jako Akeeba Pro stojí ročně 40€. Další verzi licence je ATPRO, která je k dostání za zhruba 500 korun. Tedy přesně za 40€. Licence má platnost 1 rok a neobsahuje Admin Tools, ani profiverzi. Obsahuje, ale otevřenou podporu ticketů. V poslední verzi AKEEBADELUXE stojí licence 85 Euro. Ale za tuto cenu dostanete kompletní podporu, včetně Admin Tools. Stejně jako předchozí verze i AKEEBDELUXE má licenci platnou jeden rok.
Systémové požadavky a kompatibilní verze
Oficiální stránky Akeeby uvádí, že ke své funkci potřebuje alespoň PHP5, ale přitom verze PHP 5.4.0 způsobuje Fatal error (kritickou chybu). Nejnovější verze je kompatibilní s verzemi Joomla! 1.5, 1.7 a 2.5.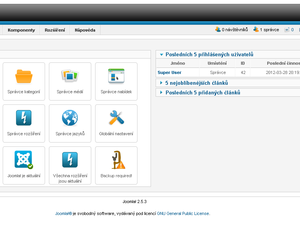 Zálohování v Akeeba a obnova ze zálohy
Zálohování je velmi lehké. V ovládacích panelech vybereme komponentu Akeeba Backup. Poté vybereme tlačítko "Backup Now" a tím dáme pokyn k vytvoření zálohy. Po vytvoření zálohy můžeme přidat naši poznámku, například co jsme zálohovali. Následně musíme poznámky uložit. To provedeme opět s pomocí tlačítka "Backup Now". Doba zálohování je logicky ovlivněna velikostmi souborů a rychlostí serveru. Jakmile se záloha vytvoří, můžeme si ji (a je to dobré pokud tak učiníme) stáhnout na náš disk. K tomu slouží tlačítko "Administer Backup Files". Pokud jde o nějaké důležité informace je vhodné tento soubor ještě například vypálit na CD. Video tutorial, vytvořený přímo Akeebou, určený pro obnovu ze zálohy, naleznetena tomto odkaze
Čeština pro Akeeba Backup
Češtinu do Akeeby si lze stáhnout na stránkách Akeeby. Náš jazyk je dostupný pro verze 1.5 - 2.5.